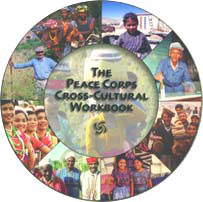 Culture Matters Workbook
Teachers and students in classrooms from 8th grade to college can benefit from the cross-cultural training workbook, Culture Matters, specifically developed by the Peace Corps to help new Volunteers acquire the knowledge and skills to work successfully and respectfully in other cultures.
Read the Introduction to Culture Matters.
To help you learn more about this primary resource document we've provided chapter summaries and a summary of what students will learn and do by chapter.
Read our section on Using Culture Matters for ideas and suggestions on how to integrate lessons and activities from Culture Matters into your own curriculum.
A Trainer's Guide to Culture Matters offers additional information on using the Culture Matters Workbook. The guide includes approximately 40 exercises from Culture Matters, dealing with the most important concepts in the book, and presents them with extensive background, delivery notes, and lesson plans.